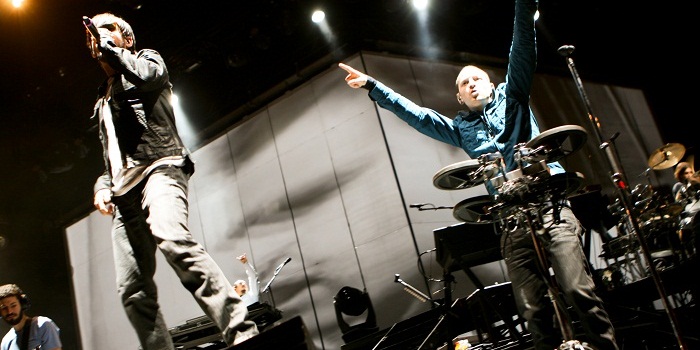 The cast of Linkin Park has been around for a little over a decade. They've produced four award-winning albums including reaching out to many fans around the world. And they brought that attitude on-stage at Staples Center on Wednesday night.
Despite the bad news about Chester Bennington (vocals) and his sickness along with several cancelled shows in their A Thousand Suns World Tour, tonight's concert made the past just an afterthought. And this show was better than any "Must-See TV" special on NBC, it was amazing.
A sold-out crowd of near 20,000 LP fans chivying to the songs ranging from their newest album, A Thousand Suns to their very first album compilation, Hybrid Theory. The mood was straight out of a Matrix movie during the opening songs especially "New Divide." Inside the Staples Center, the crowds really got into it as the entire stage was electrified with smoke and creative lightning.
During "Iridecent," the song reminiscence a blend between U2 and Coldplay – imagine listening to U2's '05 album How to Dismantle an Atomic Bomb along with Coldplay's album X&Y at the same time. It brings crazy chills down one person's spine while pondering about if hope will ever come.
While singing during the high-pitched bridges on "Breaking the Habit," Bennington sounded like he had some small slipups with the vocals but nevertheless the crowds appeared unaffected by it. He drove his high vocals like a winner with his trademark two-hand hold of the microphone.
About the most sensitive song of the night had to be – "The Messenger." A song that makes reference to "What's more important in life," remarked Bennington during the concert, this song was a soothing and peaceful song made by LP, who's notorious for songs with kicks of adrenaline in most of their songs. An interested side note – a lot of fans in the pits started to light up candles and putting them up in the air. That was surreal to the max.
Frontman Mike Shinoda enjoyed finally being at home in LA. His showmanship for his craft as a member of LP was evident when he saw an audience member in the pit holding up a sign stating "First Concert, Favorite Band." During the band's three-song encore, Shinoda took a moment as he shouted out, "We'll take it back to The Roxy about ten years ago" as the band decisively plays a transition from "Bleed It Out" from Minutes to Midnight to "A Place For My Head." A great reminder to the fans that LP can still rock-out to their classics.
LP is scheduled for five more show dates in their North American tour before taking a three-month break. LP will resume their tour in Europe in June. They are scheduled for fourteen shows in Europe.
The opening band was hardcore electro-punk rock band, The Prodigy.
Set List
Papercut, Wretches and Kings, Given Up, New Divide, Faint, Empty Spaces (Mike interlude), When They Come for Me, No More Sorrow, Waiting For the End, Wisdom Justice and Love, Iridescent, Numb, The Radiance (Oppenheimer), Breaking the Habit, Shadow of the Day, Crawling, One Step Closer, The Catalyst, The Messenger, In the End, What I've Done, Bleed It Out/Place for My Head (finale).