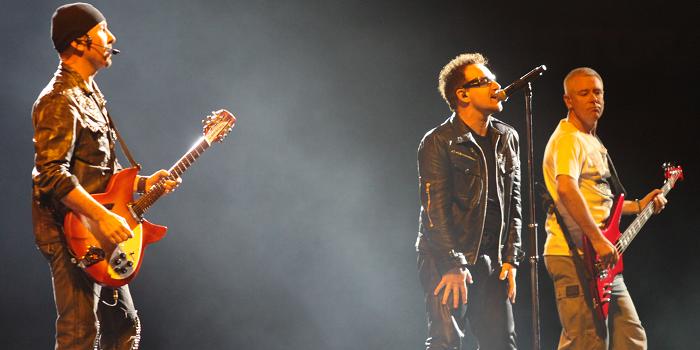 Their last live performance in Southern California was in October 2009 at Rose Bowl in Pasadena. A definite crowd-pleasing experience for the 75,000-plus in attendance. Bono was alive and "The Edge" (David Evans) was on the "Edge of Glory" (nothing against Lady Gaga). Since then, some changes have been occurring in the music industry.
Female artists are ruling the top prestige music charts, according to Billboard. Some of these artists include – Lady Gaga, Keisha, Katy Perry, and most recently – UK pop-sensationalist, Adele. But enough with this so-called phenomenon.
Summer is fast approaching. We are in the year before, as according to ancient Aztec calendars would say, "the end of the world." And the group, U2, made their much-anticipated return to Anaheim on Friday for back-to-back performances at Angels Stadium for their 360 Tour.
The notion of arriving early is key to not missing out on seeing this quartet from Dublin. And that message became clear and widespread. Two days prior, fans started to line up at the parking lot closest to The Grove. The reason – in hopes to get the best floor seats for the concert and a glimpse of Bono.
To avoid the mess unlike Oakland, LiveNation and the local MTA made it clear to fans to carpool or to take public transportation. On the days of the concert, the Anaheim rail station was actively in motion bringing folks from the LA area. In a 30-minute span, we reported at least seven trains passing by. On normal day, the average is just one.
Once inside, we noticed most of the fans were respectful of others.  We meet several cool people.  One fan, from San Francisco, told us that they've followed this band since their start in 1976.  Another, from Australia, mentioned to us that she finally has a reason to visit her family folks in Anaheim.
The opener, Lenny Kravitz, played it safe with his smash hits including "American Woman," "Fly Away," and "Are You Gonna Go My Way."  We knew what to expect from his hits in the past – smashing guitar riffs, loud-outspoken vocals, and clean stage presence.  It's unfortunate that his set list was an hour long and consisted of seven songs.
Waiting upon U2's arrival on-stage, the factoids on the giant screens above the stage really tells a separate story ("unemployment rate", "number of barrels of oil produced this year", "number of Google searches").   These brief facts are one rarity and are not to be taken lightly.
The excitement was already brewing once David Bowie's "Space Oddity" came alive all around the stadium.  The tune from Bowie's self-titled album in '69, this opening song has been a reoccurring theme for the infamous walk up-to-the-stage for the crew of U2.  Watching them play their hearts out live tells a different tale than witnessing it through YouTube in 2009.
Bono can still rock out a masterful performance with key signature moves and convincing storytelling while staying true to his heart to the recent passing of Clarence Clemons, the Big Man of the E Street Band. A true showmanship for the group, during "Beautiful Day", a song dedicated to congresswoman Gabrielle Giffords from his husband, space astronaut – Mark Kelly. A pleasing spectacle to foresee while several fans nearby starting to cry.
Playing "Where the Streets Have No Name," was a surprise to some but only to some. For others, it makes no difference. Every song felt like a hit smash rather if it was "Elevation", "Zoorapa", or "Walk On".
If watching U2 on HBO's Entourage was a favorite, then being here was a must.  If you wanted to find Bono during the daytime, you may have found his double somewhere along the parking lot then you should have been here.  If you enjoyed the group's breakthrough album, Joshua Tree, then being here was a priority.  Or if you give respect to Bono's passions outside of music, then you needed to be here.
A beautiful day it was.  And a beautiful night to be watching U2.
U2 Setlist: Even Better Than the Real Thing / The Fly / Mysterious Ways / Until the End of the World / One / Where the Streets Have No Name / I Will Follow / Get On Your Boots / I Still Haven't Found What I'm Looking For / Stuck in a Moment You Can't Get Out Of / Beautiful Day / Elevation / Pride / Miss Sarajevo / Zooropa / City of Blinding Light / Vertigo / I'll Go Crazy If I Don't Go Crazy Tonight / Sunday Bloody Sunday / Walk On
Encore: Ultra Violet (Light My Way) / With or Without You / Moment of Surrender
Lenny Kravitz Setlist: Come On and Get It / It Ain't Over 'Til It's Over / Always on the Run / American Woman / Fly Away / Let Love Rule / Are You Gonna Go My Way
Photo Credit: Felipe Gamboa