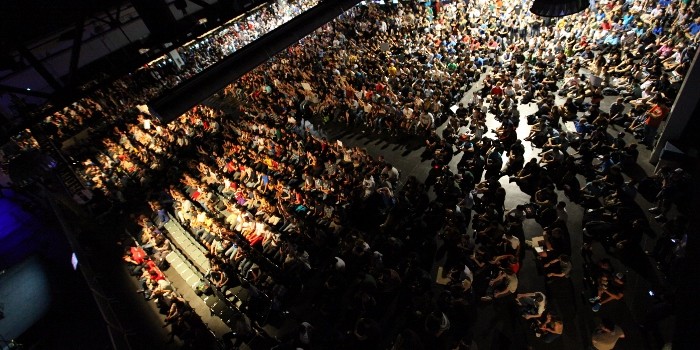 The MLG Pro Circuit may its stop in Anaheim, CA at the Anaheim Convention Center over the weekend (July 29 – July 31). And by show of the crowds – this event was no fluke. The acronym – MLG – standing for Major League Gaming is a tournament where the best of the best gamers around the nation come to play. Founded in 2002, MLG has become the world's largest professional video gaming league. Previous cities that MLG have made appearances included Dallas and Columbus, OH.
There were some serious gamers in-attendance. Early reports have said that a combined total of 300 players participated in this weekend event. The video games played during this tournament included – StarCraft 2, Call of Duty: Black Ops, and Halo: Reach. A majority of the players participated in the StarCraft 2 tournaments.
For any serious gamer who wanted to participate during this three-day tournament, they can be able to buy a pass. For Starcraft 2, the pass would cost seventy dollars for one-on-one play. For team play on Call of Duty and Halo, the cost would be $240 (Call of Duty) or $280 (Halo).
In the finals for StarCraft 2, IMMvp beat out SlayersMMA to become a first-time winner for MLG. Quantic Leverage beat out 2nd Place Fear to win the Black Ops tournament. And #2 seed Instinct beat out #1 seed Status Quo in seven games for the championship price in Halo: Reach (in a best of seven).
The MLG CEO – Sundance DiGiovanni announced that there were over 30 million live streams on their website for this event. We are yet to receive official word on overall attendance during MLG Anaheim. Our prediction is over 3,000 people (based from previous attendance records from Columbus).
The rest of the 2011 MLG Pro Circuit Schedule is as follows:
Aug 26-28: Raleigh, NC (Raleigh Convention Center)
Oct 14-16: Orlando, FL (Gaylord Palms Resort and Convention Center)
Nov 18-20: Providence, RI (National Championships; Rhode Island Convention Center)
For more information, visit www.majorleaguegaming.com