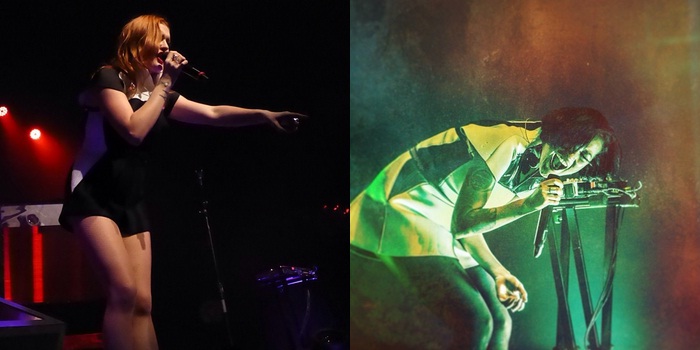 The swedish duo of Caroline Hjelt and Aino Jawo came to dance on the intimate stage at Fonda Theater on Tuesday night. The crowds inside reminiscent of the newer "Generation-Z" with massive love of the electronic music scene. Their messages to the audience for the night – "Do you want to dance" and "I don't care."
Both Hjelt and Jawo, dressed in appealing black and white mini-dresses made some remind of the cool and everlasting impressions of Daft Punk with a hint of hip-hop and all wrapped in a sensual female tone. Also to note, the duo lined up behind a DJ setup modeled as "a pointed spaceship" (as one fan would say) with backview camera screen pointing right back to them.
Nearing their end of their U.S. tour and the begin of great opportunities in opening up tours for Miley Cyrus and Katy Perry, Icona Pop showed great demise beyond just mere shoutouts of their hit song "I Love It."
The duo is versatile in using all instruments available in their disposal – guitar, kazoo, dual mic-stands and mixing/sampling stations during "Light Me Up" and "Ready For The Weekend." Just to show that this group is tech-saavy with their live show — the one-two punch of Yeah Yeah Yeahs with the witty personality of Rihanna.
Jawo made a brief impromptu to Tupac's "Me and My Girlfriend" as a true salute to Hjelt's bond as a fellow group member and close friend since 2009. It reminded us on why it's cool to open up for Katy Perry's "Prism" tour in February.
Opening acts were Slay and local electronica hip-hop artist K Flay.
Photo Credit: livenation.com