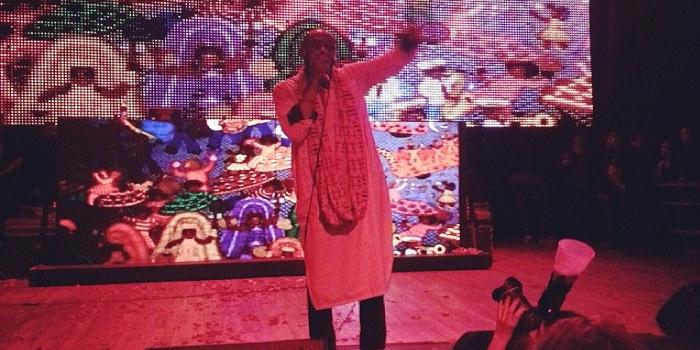 Yasiin Bey, formerly Mos Def, arrived in Santa Ana, performing for the first time there, with the intent not just to rock the Yost, but to bring a spiritual gift to the city's patrons.  Before the sermon began the musical Imam, decked out in thawb, walked out blessing the stage with rose petals.  Already, this was the beginning to a live performance not typical of most hip hop acts.
He began with cuts off his album The Ecstatic, such as "Twilite Speedball", "Super magic", and "Quiet Dog Bite Hard".  He seemed to have successfully invoked spirit as he began rocking out to everything his DJ played from soul to cumbias; Yasiin got down with surprisingly loose and funky steps.  As the evening progressed he decided to get more intimate with the audience.  He requested that all the lights be turned down except for the red.  "Let's just keep the lights like this.  A red light special, yeah, I want a red light special right now."
With the mood set, he went into his next group of songs which he referred to as 'chocolate cake'.  "See everything in life needs balance.  You've got to have your nourishment – your vitamins, your minerals, your fruits and vegetables, because that's what keeps you healthy."  He continued, "But sometimes, you just gotta have your chocolate cake."  The beat from Drake's "The Motto" then suddenly came on with Yasiin spitting his own verses over it, proving he could rock to anything.  More cake was provided over songs like "Niggas in Paris" and "Fuckwithmeyouknowigotit" before throwing icing on in the form of a tribute to Biggie with "Juicy".
Yasiin then went into a new cut he did with producer Manny Fresh called "Black Jesus".  With the patented sound Fresh brings, it was a refreshing departure from the more eclectic sounds we're used to from Bey.  The evening came to a close with classics like "Universal Magnetic", "Mathematics", "Umi Says" and "Travelin Man".  Knowing he held a tight grip on everyone's attention through out, he let go slowly by chanting the chorus to "Travelin Man" repeatedly singing "I'm leaving…I'll be back to you".
His grand exit came with Ponderosa Twins Plus One's classic, "Bound", blasting on in the background.  Yasiin Bey, completing his sermon, then unplugged his trademark red microphone, threw rose petals into the crowd, shook hands and quietly walked off stage.