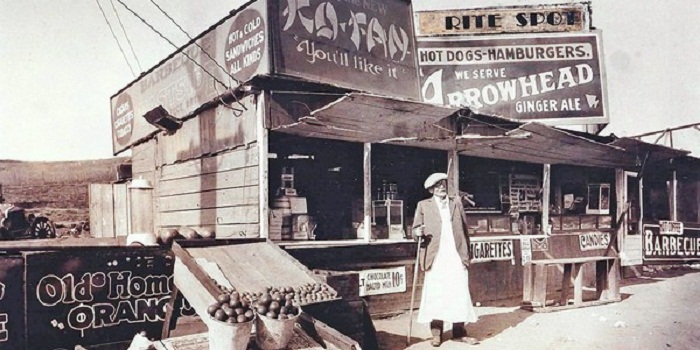 We looked closer at several restaurants and their specialty food dishes:
Green Street Restaurant
The ambient at this Pasadena-born restaurant since '79 is a great vibe for about anyone from the college-bound kid to the extended family gathering.  Located closer to the South Lake district of Pasadena, we were very welcomed from their management from the get-go.
Peppercorn Burger
A Kobe burger served with swiss cheese and worcestershire sauce on a baguette, we highly recommend this item served with sweet potato fries.  And also to recommend the peppercorn burger cooked on medium.
Turkey Patty Melt
Served on grilled cheese bread, this combination worked its magic well served with French fries.  Again, the meat was recommended cooked as medium.  An awesome burger for the avid grilled cheese lover.
All American Burger
A definite tasty burger served with kobe beef cooked on medium rare.  With the added cheese and other vegetable amenities, you can't go wrong with this burger.
Notes:  The menu prices on the burgers are understandably of a concern.  However, we felt they were easily justifiable with the service and quiet location of this restaurant.
The Counter
Established in 2003, this chain restaurant emphasizes on the concept – "burger options that are only limited by your imagination".  In California, there are plenty of locations in the LA area including Orange County.
Bison Burger
This ever-populating organic and 100% grass-fed meat served on medium rare, we found this combination as a crowd-pleaser.  We ordered ours with fresh guacamole with added horseradish mayo and served on a ciabatta bun.  The horseradish mayo made for a strong impression in the overall taste in the burger.  However, we are glad to hear that The Counter has added the Bison burger to their populating menu.
Beef Burger
Ordered as a 1/3 burger with beef, avocado and au jus sauce, there is nothing wrong with an essential burger without any gimmicks – pure and simple.  Ordering the beef burger along with parmesian fries and onion strings helps to bring this classic back to life.
Notes: Ordering the burgers with a beer of choice such as Pear Cider or Sapporo is an added testament to the concept of The Counter that it's okay to drink a cold one with a burger.  The onion strings were too thin and felt oily.  But the parmesan fries are satisfying at best.  We would stick to strictly French fries next time.
For more details on the featured restaurants in parts I and II, see the below information:
The Counter
140 Shoppers Lane
Pasadena, CA 91101
Green Street Restaurant
146 Shoppers Lane
Pasadena, CA 91101
Real Food Daily
899 E. Del Mar Blvd
Pasadena, CA 91106