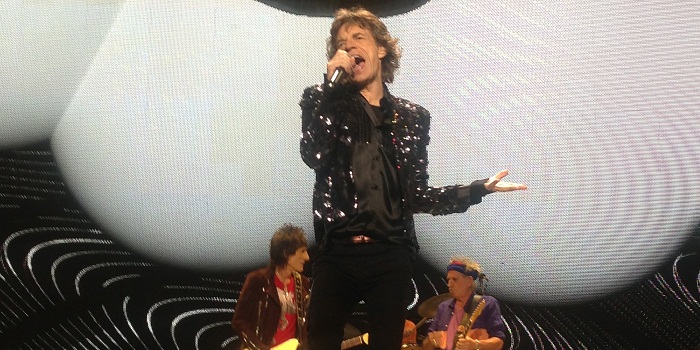 On a fast and culminating Monday night at Staples Center, the second LA stop for the Rolling Stones was a mindblow. The opening introduction video collague included fan testimonials on their favorite Stones moment including Iggy Pop (The Stooges) and Cate Blanchett (The Lord of the Rings, Babel).
Mick was just being Mick Jagger himself with his glittery jacket attire and dark tight pants as he started "Get Off My Cloud." Keith Richards, his self-explained passion for playing live and with his guitar, had great team-spirit with Ronny Woods during the basic version of "You Got The Silver" before transitioning to the perfectly tuned song of "Before They Make Me Run."
On this night that this tour normally brings out a special musical guest, basically there was no guest, per Mick. It was one of their own. No other than Mick Taylor. Taylor who played with the Stones before Wood came aboard definitely brought a new perspective to good 70s rock. Known primarily as a blues guitarist, Taylor was the main attraction during "Midnight Rambler" and well-respected during "Sway", a song that was reportedly written by Taylor himself.
An awesome night to see The Stones, at heart, an worldwide impacted garage-rock band with plenty of wit and grit. For its hardcore Stones fans, it explains why they pay too much money and patiently wait hours in line to get a lasting glimpse of the Stones.
SETLIST
01 "Get Off My Cloud"
02 "It's Only Rock 'n' Roll (But I Like It)"
03 "Paint It Black"
04 "Gimme Shelter"
05 "All Down The Line"
06 "Far Away Eyes"
07 "Sway"
08 "Doom and Gloom"
09 "One More Shot"
10 "Can't You Hear Me Knocking"
11 "Honky Tonk Women"
12 "You Got The Silver"
13 "Before They Make Me Run"
14 "Midnight Rambler"
15 "Miss You"
16 "Start Me Up"
17 "Tumbling Dice"
18 "Brown Sugar"
19 "Sympathy For The Devil"
20 "You Can't Always Get What You Want"
21 "Jumpin' Jack Flash"
22 "(I Can't Get No) Satisfaction"
Photo Credit: Arturo Vega