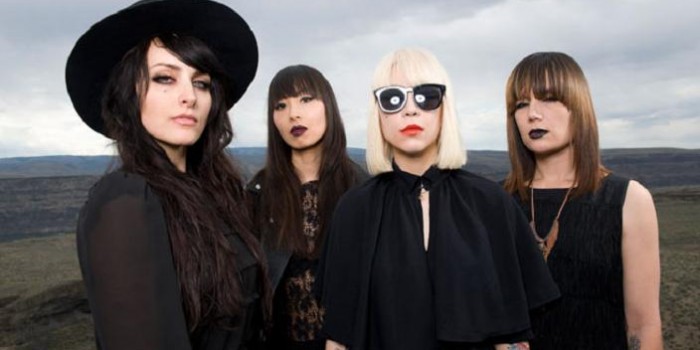 With their recently released third album TOO TRUE, Dum Dum Girls made their epic appearance at the Roxy Theater in West Hollywood.  Two hours before the doors opened, a line of fans started forming outside the Roxy.  This always says something good about the garage-rock and all-female band based out of Los Angeles.  DDG gave a successful performance on Thursday night.  Opening the show was drummer Sandra Vu's own, SISU.  Influenced by krautrock, SISU has a striking industrial and experimental sound in songs like "Harpoons" and "Blood Tears".
TOO TRUE stays true to the poetic lyrical talents that front-woman Dee Dee Penny is best known for.  The richness of the 80′s synth meshed with the sound of the processed guitar reinvents the album into a more tuneful appreciation of the bands' excellent talents. The ladies, dressed in their best all-black Goth-pop attire, rocked the stage while the crowd of fans danced to tunes including "Rimbaud Eyes", "Bedroom Eyes", and "Too True to Be Good" and new stuff from their current album. DDG closed the night with their hit-song, "Coming Down". The closing song was a great way to bring down the energy of the fans and call it a night.
Dum Dum Girls is currently on tour and will be in Europe for the remainder of spring and returning to Southern California in the early summer.