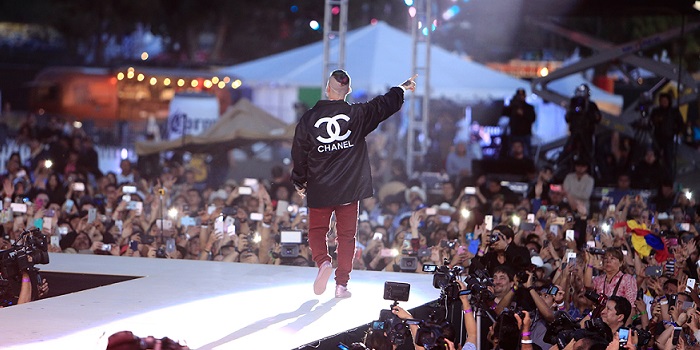 The 2nd annual L Festival occurred over the weekend at the Pico Rivera Sports Arena. On a 2-day bill, many performances and surprises surfaced. The expected performers on day 1 included – Juanes, Daddy Yankee, Luis Fonsi, among others. And on day 2, headliners included Jesse & Joy, J Balvin, and Marco Antonio Solis.
On Saturday, the party can alive on the mainstage with Banda El Recodo. With their music classics, "Pena tras pena," "El sinaloense," and their newest – "El chema", their opening act was set well for the next following acts in the evening.  Luis Fonsi played next with songs, "Aqui estoy yo", and "No Me Doy Por Vencido". He wrapped his set with the crowd-pleasing tune "Despacito".
Daddy Yankee came on-stage and played favorite after favorite. Songs including "Shaky Shaky," "Hula hoop," "Gasolina," "Limbo" and "Lo que paso paso". Colombian rockstar group, Juanes, sang popular tunes with the likes of, "Fuego" and  "Hermosa ingrata". He also sang other old-school songs, "La Camisa Negra" and "Me Enamora". He also covered the song, "Querida," in tribute to Mexican singer – Juan Gabriel.
Alejandro Fernandez closed the first day with tunes, "El Potrillo" and also added a mariachi to sing along with "Guadalajara," "Matalas" and "Tantila Pena." Fernandez also added a message to the crowds towards the end of his set explaining that "we're proving that we can break barriers."
On Sunday, the festivities continued with artists including Jesse & Joy, J Balvin, Jenni Rivera (hologram), Los Tigres del Norte and Marco Antonio Solis. Jesse & Joy played favorites including "Ecos de Amor," "Espacio Sideral" and "Dueles.  The grammy-award winning duet, formed in 2005, have found major success in around Latin America including Mexico City.  Their latest album, Un Besito Mas, won the award for "Best Latin Pop Album" via Grammy Awards.
The widely-popular Colombian pop/rock singer, J Balvin, came on-stage and played crowd favorites – "Ginza," "Bobo," "Safari," "Sigo extranandote," "6AM" and "Ay Vamos." J Balvin (real name – Jose Alvaro Osorio Balvin), became well-known in his country of Colombia through the popular musical genre of Reggaeton. A mixture of hip-hop lyrics and melodic hooks and dembow instrumentals, the genre is very popular in Latin America.
Jenni Rivera (hologram) was once again brought back to the mainstream stage on Sunday night. Originated back in October at the Hollywood Day of the Dead event in October, the reborn of the hologram was a major show-stopper for the fans. Daughters Chiquis and Jacqie helped bring the set to life with songs including unreleased song, "La Diva." They played alongside other Mexican folklore dancers and break-dancers.
Photo Credit: Billboard / L Festival