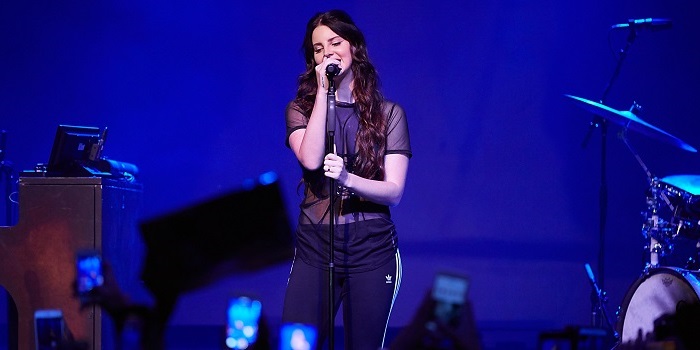 About five years later after her debut album – Born To Die, Lana Del Rey is soon to embark on her new album tour. Her most recent, Lust For Life was recently released. And many were fortunate to land tickets for an intimate show on Monday night in San Diego with the artist herself.
A lot can change for an artist. For Lana herself, with four albums and two EPs under her belt, she responded in a spectacular way to make her proudest fans become more cheerful. As her upcoming two shows (San Diego and Orange) are meant to be "warm-ups", despite the technical difficulties in the beginning part of her set, she kept the crowds at-ease. She had total command on-stage. And the crowds kept on singing along.
Several songs that she played live for the first time included – "Music to Watch Boys To", "Change" and "Get Free." The first song coming from her 2015 compilation, Honeymoon. The video setup behind the stage featured the iconic cursive lettering of the song and she took care of the rest with the balance of her voice and stage presence. Lana had no issues in going through her classic tunes – "Blue Jeans," "Born To Die", "Video Games", among others.
During "Get Free", it was in this moment that the parallelism between ones past and today bears meaning to make due changes to life. A well-pleased song to hear towards the end of her set. A true calling to her to realize that life needs certain changes. And her fans are okay with it. And life goes on. The photo-ops with the artist will happen.  The mass amounts of fans waiting outside of the sold-out show will happen.  And the majority of the fans were pleased to get a glimpse of the happy Lana that you would see on her current album cover.  And she enjoyed the time to signing memorabilia for her fans.
There is no more Lana from 2012 anymore. It is now 2017. Time has changed and so has the music. But this is the year of Lana nevertheless.
Photo Cred: Getty / Interscope Records
Setlist: Body Electric / Cherry / Shades of Cool / Blue Jeans / Born To Die / White Mustang / Summertime Sadness / Cruel World / Music To Watch Boys To / Ultraviolence / Change / Ride / Love / Video Games / Get Free (A Capella) / Off To The Races