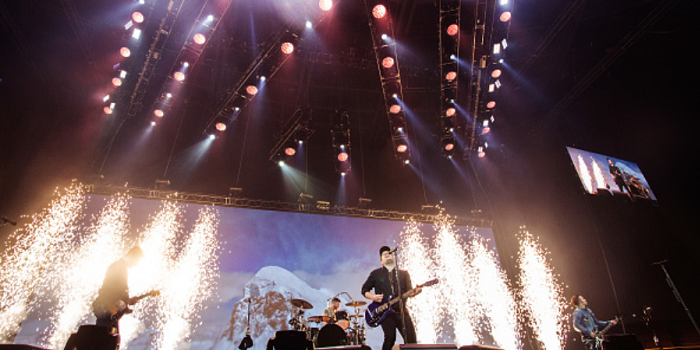 Nearing the end of their M.A.N.I.A. tour, the group made their only stop in LA as they played on Friday night in Inglewood.  As one of few bands from the Midwest for their early-2000s emo-rock sound with the likes of Patrick Stump (main vocals) and Pete Wentz (bass, backup vocals) to begin with.  The atmosphere was not to be missed with an obvious ratio of female fans in the overall majority seats inside the venue.
To begin the show with a statement like "Please Silence And Put Away Your Cell Phones" is a funny understatement for the 15-plus years group.  Would any of the fans listen to that tonight?  There was no boos in the crowds. They can stir some conversation and so they did.
The set began with "The Phoenix" from their Save Rock and Roll compilation album in 2013.  The guys were brought up to the stage-level from escaping holes.  In their 2013 album, the majority tonality was a sole message that rock n roll was facing competition with other musical genres.  And also talks matters about life challenges that one can face in life on a regular basis.  As the crowds were raving the music, the video wall screen behind the band served as a reminder of what's current in today's news.
When playing "Centuries," the visuals showed former NFL quarterback, Colin Kaepernick, known earliest this time for making headlines as one of the first to kneel during pre-game national anthem as a sign for protest police violence against African-American people.  The band showed support for Kaepernick as well as Muhammed Ali, as both were shown on video display during the song.  Ali, a famous box fighter in the 1970s, made headlines when he refused to enter the draft for the Vietnam War and also when he tried to change his former name when he joined the Nation of Islam.
FOB also paid tribute to Princess Diana during "Champion."  A subjective song that interloops one's past and present life and in search of repurpose in life.  Per lyrics, the band has gone through their ups and down.  And on Friday night, the song was shown to compare to Princess Diana has someone who cared about the unpopular things in pop culture and started to pave a way for a future in humanitarian life for today.
Setlist: The Phoenix / Irresistible / Hum Hallelujah / Sugar, We're Going Down / Immortals / American Beauty/American Psycho / Centuries / Save Rock and Roll / The Last of the Real Ones / Young and Menace / Drum Solo / Dance, Dance / Wilson (Expensive Mistakes) / Thnks fr th Mmrs / I Don't Care / This Ain't a Scene, It's an Arms Race / Hold Me Tight, or Don't / Grand Theft Autumn/Where is Your Boy / Champion
Encore: Uma Thurman / My Songs Know What You Did in the Dark (Light Em Up) / Saturday
i dont care – f signs everywhere